Tour Date: Friday, January 19, 2018
Start Time: 1:00 PM * Please arrive 15 minutes early for check-in
Price: Mirror Lab – $18 Group (10+)
Price: Flandrau Planetarium – $8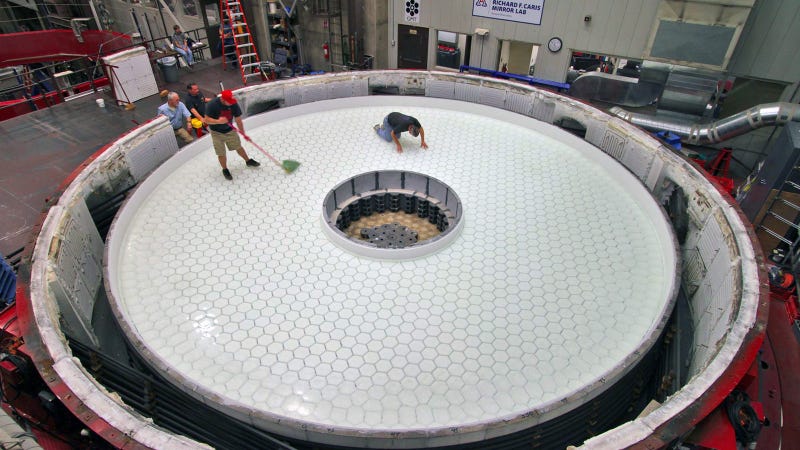 We're pleased to announce our next field trip is planned to tour the Mirror Lab and the Flandrau Plaentarium! Jim Haug (email: jamesdhaug@gmail.com) is our trip coordinator, and will handle all detailed communications as we draw forward. Note that we can have no more than 24 attendees to the Mirror Lab, so it's a first-come, first served kind of thing! If you are going, it's important to buy your tickets to the Mirror Lab as soon as possible, following the link below.
The Mirror Lab Tour will commence at 1:00 and finish around 2:30. At that point, the group will move to the planetarium, which is nearby.
Buy Mirror Lab Tickets online HERE: http://mirrorlab.tix.com/Event.aspx?EventCode=1018421
Buy Mirror Lab Tickets over the phone: call: 520-626-8792
Planetarium Tickets: This is a tour specifically for us. To ensure we all stay together, these tickets will be purchased at the gate.
In an effort to save trees, the Mirror Lab does not print individual tickets. Once you've bought your ticket, your name will be appear on our 'Check-in List,' and Jim will be able to confirm your attendance.
A FEW REQUIREMENTS AND NOTES:
§ Please arrive at least 15 minutes early for check-in. Tours start on time, and the Mirror Lab is a secure facility. Access after the start of tour may not be possible. All visiting individuals must be escorted through the building at all times.
§ If you need to use the restroom, please ask to do so PRIOR to the start of the tour as it is difficult to accommodate requests during the program.
§ This tour involves climbing and descending stairs, as well as, standing for periods of time. Flat rubber soled closed toed shoes are the best.
§ NO backpacks or large carrying bags are permitted on the tour.
TRANSPORTATION:
Since the location is in Tucson, we will travel privately. Contact Jim if you would like to have help finding a ride. The Mirror Lab is located on the east side of the UA Football Stadium.
Address: 527 National Championship Drive.
PARKING:
§ Cherry Avenue – Just north of the UA football stadium and west of McKale basketball center
§ South Stadium Garage – Just south of UA football stadium, south of 6th ave
All parking on the UA campus is self-pay. The parking lot in front of the mirror lab is UA permit parking only. It is the responsibility of the participants to locate parking on campus.
DIRECTIONS:
After parking, go to Gate #1 of the football stadium and follow the sidewalk south to the mirror lab front door. The Mirror Lab Tour Leader will meet you outside the Mirror Lab entrance at the blue benches.
CANCELLATION POLICY:
The Mirror Lab cannot provide refunds if the cancellation is within 24 hours of the scheduled tour booking. We will reschedule the tour if at all possible or we will issue a "Gift Certificate good for six months.
TOUR INFORMATION:
Today, the Richard F. Caris Mirror Lab is producing the largest and most complex telescope mirrors in the world. These next generation telescopes will revolutionize the way we view the universe in the future. The Richard F. Caris Mirror Lab is an active industrial facility and we ask that everyone be considerate of the scientists and engineers working in the offices you will be passing during the tour, by keeping voices low and discussions to a minimum. While extensive safety precautions have been taken to reduce the potential for accidents, guests are required to be aware of their surroundings at all times. There are equipment components which can cause trip hazards, pinch points and overheating.
Cameras / photographs are permitted during the tour.
Barriers and signage have been installed to keep guests from entering areas that are off-limits. For your safety we ask that you respect all marked or cordoned areas and do not attempt to reach through or cross barriers at any time.
All guests must be accompanied by a qualified tour leader.